Find here our top ten gift ideas so that you can always have a suitable present at hand.
Is there anything more beautiful than giving joy? Probably not! This is why we have curated for you a selection of our most beautiful presents! No matter if you are looking for a birthday gift, a trifle for the host or you simply want to surprise someone - at Prantl we are certain: here, you can find the perfect present for every occasion.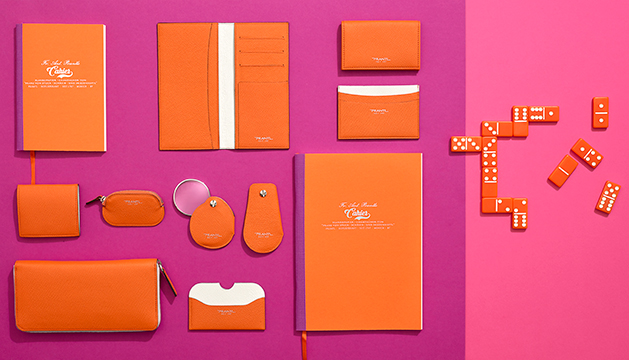 For Mothers
A mother is, without any doubt, a truly special person. Without her, most certainly, everyday life would not be filled with so much love. A present, thus, offers the best possibility to say "thank you" and this can come in the form of the 'Hanna' clutch, made from the finest leather, in a glowing orange color with a lavender-colored lining. A small tip: hide a pair of theater tickets in there, so you'll have an occasion to take out this chic companion. Dimensions 18,5 x 13 cm, 159 Euro.
For Father
Your dad also loves the written word – especially for his business partners – spending the better part of his time in his office? Maybe he has ran out of stationery again? No problem: whether classically elegant or timeless contemporary: with over 200 years of experience in the stationery manufacturing, Prantl is an absolute specialist. Each design can be individually realized, according to one's personal taste.
For The Frequent Traveller
Straight for the frequent traveler, who is eager to discover the world, the perfect "appendage": elegant, classical and especially more than practical, as today most suitcases on the conveyor belt look almost the same. So that your son's, partner's or friend's luggage does not get lost, you can gift this leather luggage tag in black or cognac colour. The inner compartment has an address label and it can be easily closed with the help of a push button. 14 x 5,5 cm, 119 Euro.
For World Lovers
Naturally, there are many things which cause one's heart to skip a beat, but, sometimes, there are small gestures, which can bring great joy. For instance, putting your own words and thoughts on paper, and offering them in the form of a birthday card, to your loved ones, or just to say thank you. Particularly suitable for scribblers: our cards illustrated by Kera Till, which are available individually, or as a set of six or twelve (envelopes included, starting from 4,30 Euro up to 39,90 Euro). You can also come to our store and, together, we can create a set of lovingly-designed cards for every occasion.
For The Self-Made
Is your daughter the typical entrepreneur? Has your son already founded his own start-up? Building your own business can be wonderful but it can also be nerve-racking, so the motivation can sometimes suffer. Support your loved one by offering a little bit of help, perhaps in the form of his/her own business cards. We promise you that their motivation will return quickly. Who doesn't distribute his successful ideas with pride, black on white, or in a colorful form?
For The Sophisticated
Sooner or later, everyone reaches this point: where should the business cards go? Of course, in their own card case! For all those who love a little bit of luxury in their everyday life, this version, made from dark green, grained outer leather and with a contrasting fire-red suede inlay, is perfect. The two compartments are particularly practical: while, for instance, you store your own visiting cards in the left compartment, in the right one, you can store all the cards you have collected. 7 x 10, 5 cm, 119 Euro.
For Day-Dreamers
Does your little brother require a little bit of assistance in becoming more organized? Is your sister building one castle in the air after the other? A possible place to catch thoughts - our line of Cahier notebooks: available in ten different colors - from grass-green up to Bordeaux red - with 40 blank pages just waiting to be filled. 24 x 17 cm, 19,90 Euro.
For Those Who Want To Make Everyday Life More Beautiful
This is the evergreen of all gift ideas: the keychain. However, sometimes, it can be difficult to find a chic version of this classical gift. We believe in the idea that less is more and, therefore, we have opted for a minimalistic, yet a precious design. Our leather key chains are available in diverse, intensive colors, from brilliant green to bright fuchsia, and they will certainly bring everyone a colorful joy.
89 Euro.
For Ogrnaisational Talents
Men seem to love this in particular: the moment they arrive home, the first thing they do is empty the pockets of their pants and jackets. We have an idea, so that you do not occupy every free surface on your desk, sideboard or hallway furniture: the truly chic "container" for everyday things, our leather travel trays. Naturally, our handmade "vide poches" are also perfect for the bedside table or desk, as a place to keep your glasses or watches. With delicate suede inner lining and a precious, robust fine leather, a true piece of jewelry. 12, 5 cm x 12, 5 cm, 139 Euro.