Prantl launches the first accessory collection together with Japanese leather manufacturer Fuji Taka.
It takes approximately six hours of manual work, ten different work stages and twenty tools for the making of one of the cardholders, business card cases or wallets. The straight-line silhouettes are characterized by precise craftsmanship, use of finest leather and especially the timeless elegance. One thing is clear: the twelve-part collection, which brings together the signature styles of Prantl and the Japanese leather manufacturer Fuji Taka, is something truly special. It represents luxury on a small scale, which does not impress through an obvious ostentatiousness but rather shines with an elegant restraint.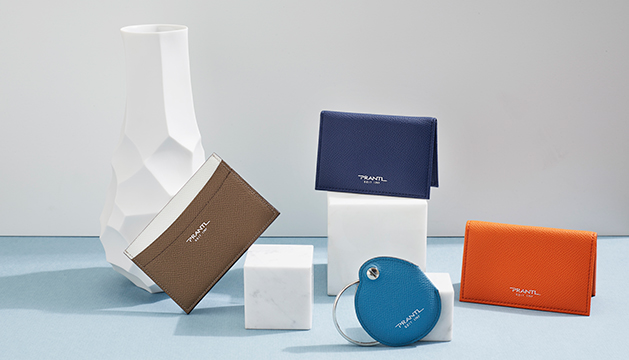 With this debut, the former Bavarian court supplier begins a new journey. For several decades now – in addition to the art of printing with which the Munich brand has made a name for itself – handmade leather goods have been part of the product range. While the company initially concentrated on acquiring foreign brands, it has been producing its own designs, for over ten years, under its own label. Particularly, color-intensive leather accessories – from leather trays to purses. The aspiration: to re-integrate refined opulence back into the everyday life: "We have always tried to provide our clients with a unique product range, which for us, refers to products that are designed for everyday life but they are anything but commonplace. Things which you cannot buy everywhere and which are of an extraordinary quality", declared Bernd von Stumberg, Managing Director of Prantl.
The company is building on this creed, with the designs made in Japan. While there are many competitors that concentrate on neighboring European countries, accomplishing their leather-related vision in France or Italy, the management of Prantl intentionally chose Japan for their new production facility. Ultimately, the country is not only a leader when it comes to style, but it has always been celebrated around the world for its exceptional craft – from ceramic to fashion and leather. "I was particularly amazed by the precision of that craftsmanship: every seam of every accessory was made with such a patience and precision, which one rarely gets to see today". Even though Prantl has taken a courageous step in relocating the production, they remain true to who they are: "We wanted to do something explicitly and exquisitely exotic. Nowadays, many labels are all about mass production and the right marketing strategies. Nonetheless, we want to deliver quality and no marketing gags! Here, craftsmanship bears a completely other meaning," stated Bernd von Stumberg.
For over 200 years, Prantl has been swimming against the current, without allowing itself to be perturbed by trends – this is also the case in the present. With an extensive palette of colors, which range from bright-orange to indigenous tones, the special, innovative leather type represents the focus of the accessory line: all designs are made from the so-called Waprolux leather, which is cut quite fine and is characterized by a robust but extraordinarily elegant texture. Particularly unique: despite the leather being thin, all of the edges of every design are hand-painted. While other brands create the inner lining from cloth fabrics, with us, these novelties are also made from leather.
It should come as no surprise that Fuji Taka is the new partner of Prantl, given the fact that it is the result of an intensive research process: Bernd von Stumberg searched for the very best manufacturer, on site, between Tokyo and Osaka. The renowned Japanese artist, Toshiya KOBAYASHI, was by his side, introducing him not only to the Japanese way of life but also to the business world. A culture like no others: "It was challenging to make appointments. As luck would have it, the Japanese broadcaster NHK realized a 30-minute documentary about Prantl, earlier this year. This feature was a real eye opener – the Japanese were able to imagine what our company is all about, seeing that our craftsmanship demands match theirs. Many of them also work for the imperial family."
For a period of one week, the pair surveyed six manufacturers, before finally finding a strong family company in Tokyo, with 140 employees. "I was impressed on the spot. Aside from the fact that the leather came from a production facility in Kyoto, we could have all of our designs produced in-house – from the first design draft to the finished product. That was what convinced me", said the Managing Director. "Our corporate philosophies and quality requirements were a perfect match. And the best thing is: we both love free-spirits."
It is a very special collaboration between the two handicraft manufacturers, which led to this unique debut collection. While the first luxury collection of leather accessories is now available in the Munich Prantl store, immediately the international team works on the second collection. If you are still looking for a suitable present, we might have an idea…